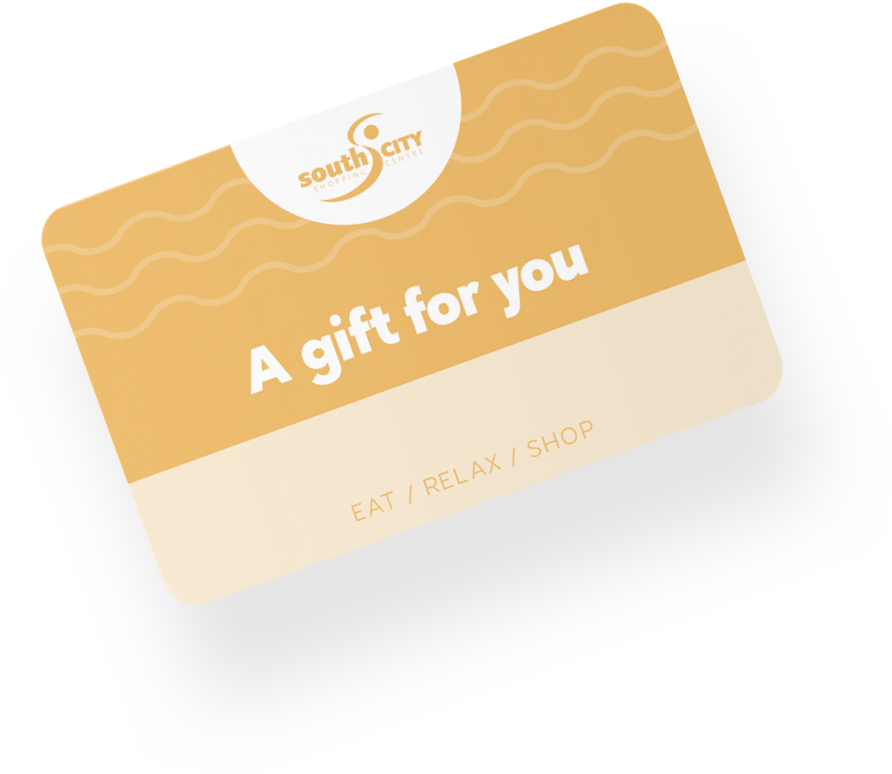 These stores accept gift cards
Frequently Asked Questions
Where can I use my South City Gift Card?

Your South City Gift Card can be used at all of our stores excluding Jenny Craig and Japanz Bakery. Pop up stores, temporary and casual retailers will not be able to accept South City Gift Cards.

Where can I purchase a South City Gift Card?

You can purchase South City Gift Cards from the Centre Management Office located by Pita Pit up the stairs to your left, we accept Visa, Mastercard, Debit, or Cash. Or you can purchase online, please click here for more information.

How long is a South City Gift Card valid for?

Our cards are valid for 12 months from date of purchase. The expiry date is displayed on the back of the card or for more details you can refer to our terms and conditions here.

How do I check the balance of my South City Gift Card?

Click here to check the balance of your gift card or you can bring it with you to the Centre Management Office and we can check it for you.

Can I get a refund if I change my mind?

South City Gift Cards are non-refundable if you change your mind.

What if my South City Gift Card is lost, stolen or damaged?

Please contact the South City Centre Management Office on 03 962 8800 so we can help you.